BOUNCE CLASSIC OBSTACLE COURSE
#R640116 CLASSIC OBSTACLE COURSE


 Inflatable obstacle course 2PC. Both kids and adults alike can't seem to get enough
 of this race to the finish! Unit has a 12' slide at the end of the obstacle
 course. 
Not to exceed 1000 pounds total weight at any one time.
Electrical Requirements: Requires one 110 Volt standard outlet.

Can be set up on Grass or any indoor facility.
$240 / EventRide Features
Dual lane slide
10' W x 36' L x 12' H
Up to 2 Child Rides
Up to 2 Teen Rides
Up to 2 Adult Rides
We offer portable power for an extra cost

http://kangarooinflatables.com/shop/classic-obstacle-course-p-239.php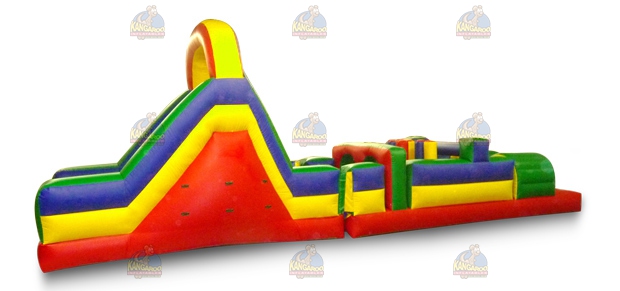 Your safety is our top priority.
All bouncers setup outdoors will be properly anchored without exception.
We require a 48 hour notice, excluding weekends and holidays, prior to setup to allow underground utilities to be located.
For Saturday or Sunday events, reservations must be completed no later than 3pm MST on Wednesday prior to the event.
Customers will be asked to locate private utility lines i.e. septic lines, sprinkler systems, etc., prior to setup,
Time Rental will not be held responsible for private lines that were not marked. For more information please see our
http://www.timelessweddingandevents.com/assets/docs/uploads/tentrentalpolicies.pdf?utm_source=policies&utm_medium=downloads&utm_campaign=tentRentalPolicy