LIFTSMART 16' MATERIAL LIFT
Mini-Pro Series
Providing industry leading transportability,
the MLM Mini-Pro Series models can be transported in vans,
SUVs, and short bed pick-up trucks.


MLM MINI-PRO SERIES The Next Generation of Material Lifts Higher Productivity Greater Durability Easy-to-Use Easy-to-Transport Standard Features Designed specifically for the rental and construction equipment markets - providing exceptional specifications, features, durability and performance. Best-in-class load capacity and a US made dual-handle, shift-on-the-fly, two-speed winch, that can raise your load twice as fast as competitive models, lets you complete your jobs faster than ever before. Robust, construction-grade cast metal cable pulleys, h provide far-superior durability and extended service life. Featuring loading wheels that can be quickly adjusted to various tailgate heights providing easy loading and transport to and from the job site. Can be transported in some vans and SUVs. ■ Easily loadable and highly transportable ■ Dual-handle, two-speed, shift-on-the-fly winch ■ cable pulleys with sealed bearings ■ Heavy-gage aluminum extrusions ■ ■ ■ ■ ■ ■ eavier-gauge aluminum extrusions, and US made non-marking casters Narrow base width and ultra-compact lowered mast height makes it easy to maneuver through a single door without having to tilt the machine back. Forks can be installed below the carriage or in the inverted position for full free lift and maximum height. New and innovative features including the Smart-Set™ "pin-less" height adjustment system for the steering and loading wheels and Clear-Path™, providing foot clearance between the rear transport wheels, are just a few of the many new features provided. Tool-less folding legs with integrated, non-marking stowage wheels allows easy, floor-friendly maneuvering in stowed position. Metal ■ US made casters ■ Patent-pending Smart-Set™ system Clear-Path™ foot clearance ■ Non-marking casters and transport wheels Highly durable powder-coat finish Tool-less folding legs Non-marking stowage wheels Easy-access crane attachment point ■ Exceptional warranty Made in the U.S.A.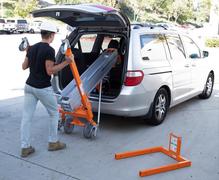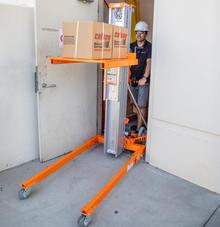 Features & Benefits

http://liftsmart.homestead.com/Walk_Around_6.pdf
SPECS:
http://liftsmart.homestead.com/MLM_Sales_Brochure_v5.pdf