Time Equipment for Black Hills Weddings.
– By #Time Equipment Rental & Sales
Every year, altar-ready couples typically get engaged between Thanksgiving and Valentine's Day. This time period is known as "engagement season," and it comes at an appropriate point before "wedding season" to allow for the months of planning that go into throwing a successful wedding event.
With this engagement season in full swing, hundreds of brides-to-be will flock to the annual Black Hills Bridal Show in Rapid City on January 5th, 2013 to hunt for Black Hills wedding sites and vendors. The 36th annual event will allow brides to meet and discuss with local party planning product and service providers, see the latest in wedding fashion, and earn deals and discounts on everything from bridal gowns to fine china.
Dozens of vendors will set up shop at the upcoming bridal show, including Time Equipment Rental and Sales. The Rapid City rental company offers everything for making a memorable wedding reception.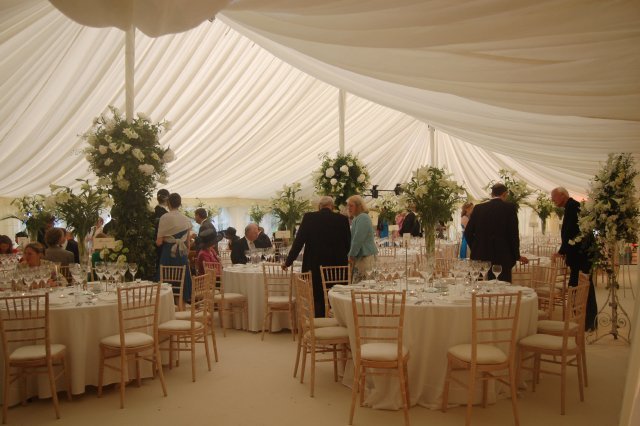 "Outdoor wedding receptions are a big trend right now," said Phil Swaney, owner of Time Equipment. "A lot of local brides are interested in renting tents or canopies for their Black Hills wedding sites, to highlight the natural beauty of the landscape while keeping their guests protected from bugs, heat, and bad weather."
Although an outdoor ceremony and reception is a great opportunity to set your big day against an aesthetic, natural background, it also requires a little more planning and effort on the part of the engaged couple. Brides looking to host outdoor Black Hills weddings will need to consider renting tableware, lighting, PA systems, catering equipment, podiums, arbors, portable bars – and of course, a dance floor. While all of these elements can add up, they can still tally up more affordable than renting an indoor Black Hills wedding site space.
"Brides are extremely budget-conscious right now; they want beautiful weddings at a minimal cost," Swaney said. "Renting can be a cost-effective way to create the wedding you've always wanted."
Self-catering is one major trend showing up at weddings across the country; not just Black Hills weddings. Brides can plan to either self-cater or nix a traditional sit-down dinner altogether in favor of appetizers or desserts.
"In an effort to cut costs, more couples are having their weddings in the morning or later in the evening, which allows them to rule out a meal altogether," Swaney said. "A dessert bar with beverage service or a large display of appetizers can be just as functional."
Time Equipment rents food preparation equipment and tents for the smallest endeavor, such as making your own desserts and beverages, to large scale operations, like a full-service, five-course feast.
Representatives from Time Equipment will staff a vendor booth at the Black Hills Bridal Show on January 5th, 2013, from 10 a.m. to 5 p.m. at the Ramkota Hotel and Conference Center in Rapid City. Attendees can stop by the Time Equipment booth for more information about furnishing their Black Hills weddings.
About Time Equipment
Time Equipment rents an extensive collection of special event equipment that ranges from tents, to food preparation, to furniture and dance floors. The Rapid City rental and sales company is a full-service rental company that also leases equipment for landscaping, home improvement, construction work, and more. If you can't borrow it from the neighbor, you can rent it at Time Equipment! Check out their website at http://www.timerental.biz/, or call 605-348-2360 for more information.
---
Last Modified: