Serving Customers Across Western South Dakota for More Than 50 Years
Time Equipment Rental and Sales
With more than 50 years in the rental business, Time Equipment Rental and Sales has been helping homeowners, contractors, and construction professionals with their rental equipment needs. Founded in 1971, the team at Time Equipment Rental and Sales has the experience and knowledge to help you find the best equipment for your next project matched with superior service and quality products at affordable prices.
Our History
Serving Rapid City and Western South Dakota, Time Equipment Rental and Sales has been providing customers with courteous and attentive service and quality rental equipment for over 50 years.
When Time Tool and Equipment Rental opened in 1971, business owners Ken and Doris Swaney had one goal in mind: to provide Rapid City with dependable, well maintained rental equipment matched with excellent customer service.
Phil and Rod, Ken and Doris' sons began working at the family business in the 1980s and 1990s. It quickly grew into a leading rental equipment company in the region. By the mid 1980s, the rental store was expanded to include the sale of pickup truck accessories to meet the needs of numerous truck owners in the area. At that time, we became Time Equipment Rental and Sales. Today our vehicle accessories department not only offers pickup toppers, bed covers, snow plows, bumpers, grille guards, and truck steps, but also specializes in RV tow packages.  We offer a full line of trailer hitches for trucks, SUV's, and Jeeps. Our staff has years of experience in outfitting trucks for commercial use with flat beds, work toppers, toolboxes, racks, and lighting; we have a passion for unique challenges. 
In 2000 we upgraded our store with a major expansion to better serve our loyal customer base that is the backbone of our success. The expansion added additional floor space for a larger showroom to house our extensive ever-changing rental equipment and our large truck accessory inventory.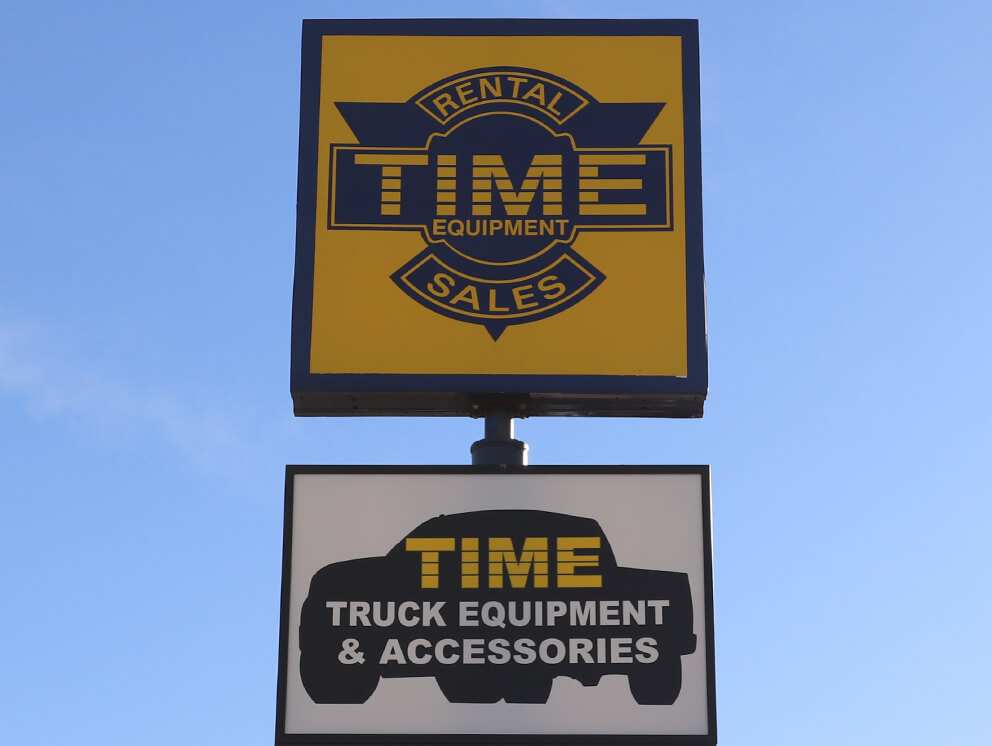 Throughout all the years and changes, our mission continues to include:
Providing dependable rental equipment at a fair price
Furnishing the right equipment for the job
Giving folks the courteous, attentive service they deserve
Friendly and Affordable Rental Services
Time Equipment Rental and Sales is best known for our wide range of dependable, reliable rentals from top manufacturers. We carry an extensive line offering you the rental equipment needed. From big jobs to small projects, we've got you covered. Our knowledgeable staff is here to help you with your next project. 
Specializing in Truck Accessory
Sales and More
Since 1985 Time Equipment Rental and Sales has been offering parts and accessories needed to make your vehicle more useful, versatile, and attractive.  Our sales staff has been selling accessories for over 35 years. We have the knowledge to bring you the most current and quality accessories on the market. We strive for a great experience and take pride in our repeat business from our loyal and satisfied customers.